House Rendering Wolverhampton
At Gaffney & Guinan, we provide industry-leading house rendering services in the City of Wolverhampton.
One of the latest, significant developments in construction is anti-crack rendering. At Gaffney & Guinan, our installers carry vast experience in rendering properties, from old, historic structures to state-of-the-art buildings.
The appearance, quality and durability of today's rendered finishes are rapidly improving. Our installers use reinforcement meshes for our render solutions. Also, we apply the use of polymer-based basecoats.
Our rendered treatments suit a variety of architectural styles. Furthermore, we provide a range of decorative finishes to your render, from pastel tones to vibrant colours.
If you live in Wolverhampton or the surrounding areas and want to improve your property's quality please get in touch today. Continue reading to find out how our rendering services can help you.
Benefits of our Wolverhampton House Rendering Services
The benefits of our rendering services include, but are not limited to:
Enhances the overall appearance of your property– Rendering your home not only modernises its appearance, but allows you to choose a new render, to suit your style and vision for your home.
Increases the structural stability of your property – Rendering, when done by professionals, can add a protective layer to your home and fix the appearance of uneven brickwork.
Eliminates draughts caused by surface fractures.
Provides mild insulation when used alone– prevents heat from escaping the home through the walls by around 30%.
Helps to fight against damp– rendering, although it cannot eliminate dampness alone, can stop damp from travelling through layers of rendered walls.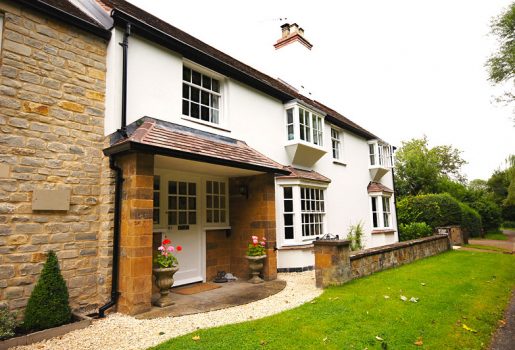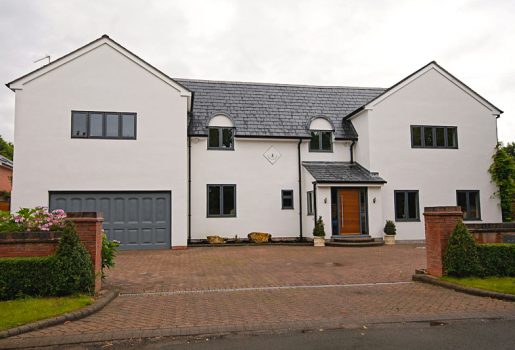 Types of House Rendering
We can provide you with the right render to suit your preference. The types of render we provide include:
Cement renders – Cement renders are the most frequently used type of render. Firstly, we prepare and apply the cement render in coats. Finally, to guarantee that the render is ready for painting, we apply the last coat thinly to provide a good finish.
Polymer renders – Our experts pre-mix the material for polymer renderings. The polymer rendering materials we use are white cement and lime. Then we add plastic components to the mix, to strengthen the render's crack resistance and toughness.
Acrylic renders – We apply the use of acrylic renders to give your property that wonderful, smooth finish. Acrylic renders are used as a thin finish to seal the underlying coat and improve its appearance.
Monocouche renders – Monocouche is a French word that translates to "single layer" or "bed". Monocouche renderings are a relatively new addition to the rendering industry. The single-coat render is pre-mixed with water and can be applied by hand or machine. White cement is typically used, but we normally colour it ahead of time in various shades. As Monocouche renders only require one coat, they are easier to apply than other renders.
Lime renders – Lime renderings are becoming more popular these days. These types of renders are more difficult to install than other renders. As a result, lime renders are more suited for renovation projects.
Insulating Renders – Insulating render can be used to renovate a home. When your outside walls are decaying or not adequately insulated, this type of render is beneficial. Is your home's external wall leaking or prone to water damage? If this is the case, insulating render can help you.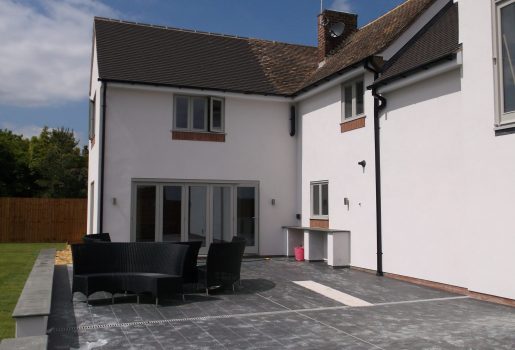 Factors to Consider
What type of render is most suitable for your property
One type of house rendering might be more suitable than others for your property, and the effects you would like to see.
For example, a lime render would be the most suitable option if you lived in an old house, as old buildings are less fixed and tend to move more due to their age, which may cause cracks in a cement render over time.
At Gaffney & Guinan, our team of experts will guide you to make the best decision for your property.
Will you require planning permission to apply for external render?
Whether or not you can apply external render to your property depends on the factors below:
Type of building – Is your property a listed building? Listed buildings are buildings of special historical and architectural interest. You will find these buildings on The National Heritage. If your building falls under this category, you will require planning permission to render your property.
Location – If your property is situated in a National Park, Conservation or Area of Outstanding Natural Beauty, then you'll need to apply for planning permission before applying the external render.
Luckily, if your property falls outside of those areas, you won't require planning permission to render your home and can arrange a consultation whenever convenient. You will need to make sure that the materials you use are similar to those used in the original construction, which is why we advise that you liaise with one of our experienced consultants at G&G, who will be able to review your case individually and advise you on the best option.
Frequently Asked Questions
Can I do external rendering myself? – It is important to consider the risks involved in attempting to render your property on your own. Without the necessary expertise, there is a chance that the end result may be messy, inadequate, and ineffective if applied incorrectly. Rendering a property requires skill and precision, which is why it is advisable to hire a professional renderer who can ensure a flawless outcome. By entrusting the job to an expert, you can achieve an attractive and even exterior render that adds value to your home.
Does rendering make your house more valuable? – Rendering a home can significantly boost its market value by enhancing its visual appeal to potential buyers. The improved aesthetics resulting from a well-executed exterior render contribute to the increased perceived value. Furthermore, exterior rendering provides a protective layer that shields the internal structures of the house while also improving energy efficiency by approximately 30%. These factors combined make rendering a worthwhile investment that can make your house more valuable.
Will rendering a house stop damp from getting in? – External rendering can serve as an effective barrier against dampness infiltrating the house through the walls. However, it is crucial to address any existing damp issues at their source before embarking on a rendering project. Resolving the underlying cause of dampness is essential to ensure long-term effectiveness and to prevent potential complications. Therefore, it is recommended to tackle damp problems proactively and then proceed with a rendering project for optimal results in keeping your house dry.
Get in Touch
At Gaffney & Guinan, we provide industry-leading external rendering services in Wolverhampton and the surrounding areas. We provide a smooth client experience in every project we undertake. Get in touch to talk to our surveyors about a quote.