House Rendering Bristol
Anti-crack rendering is one of the latest significant developments in construction technology. We can render an extensive range of properties at Gaffney & Guinan, from state-of-the-art architecture to old, historic structures.
Today's rendered finishes' are rapidly improving in durability, quality, and appearance. At Gaffney & Guinan, we use reinforcement meshes for our render solutions. We also apply the use of polymer-based basecoats.
Our vast selection of rendered treatments can cater to various architectural settings. In addition, we provide a variety of finishes, from vivid colours to pastel tones.
If you live in Bristol or the surrounding areas and want to improve the quality of your property, please get in touch to learn more about our services. Continue reading to find out how our rendering services can help you.
Benefits of House Rendering
Improve the appearance of your home – applying a second coat of render on your home can make it look nicer. Our renders are available in many colours and textures, allowing you to choose a suitable look.
Render can help extend the lifespan of your house's materials
External rendering can improve the structural integrity of your home
Eliminates draughts caused by surface fractures
Provides mild insulation when used alone
Types of House Rendering
We can provide you with the right render to suit your preference. The types of render we provide include: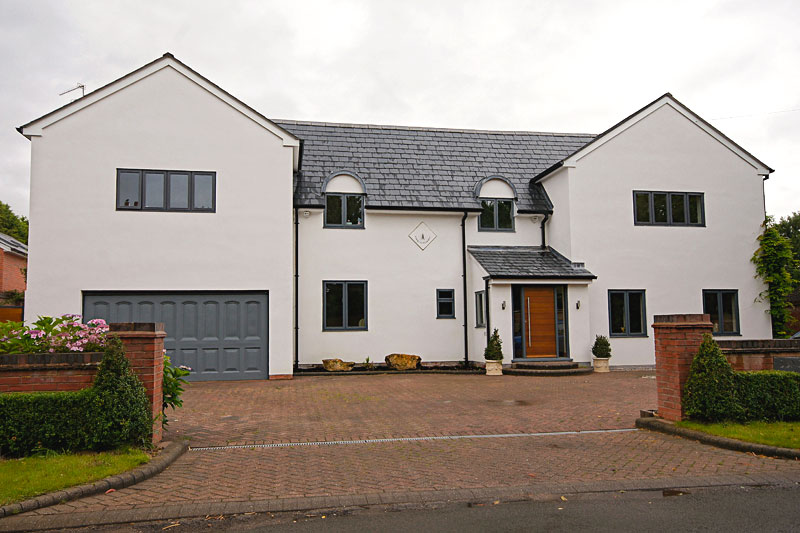 Cement render – the most common type of render is cement render. First, we prepare and apply cement render in coats. Then, to ensure the render is ready for painting, we apply the last layer thinly to give it a good finish.
Polymer renders – our professionals pre-mix the material for polymer renderings. White cement and lime are the polymer rendering materials that we use. Then, to improve the render's crack resistance and hardness, we add plastic components to the mix.
Acrylic renders – To give your property that lovely, smooth finish, we normally use acrylic renders. We use acrylic renders as a thin finish to seal and improve the appearance of the underlying coat.
Monocouche renders – Monocouche is a French word that literally means "single layer" or "bed". Monocouche renderings are a recent addition to the field of rendering. The one-coat render can be applied by hand or machine, and it is pre-mixed with water. Even though this render contains white cement, we colour it first. Monocouche renders are easier to apply than other types because they only require one coat.
Lime renders – Lime plasterings were once a popular choice. These days, lime renderings are regaining favour. Nevertheless, lime renderings are
more challenging to install than other renders. As a result, lime renders are more suited to renovation work. Lime renders are available from a variety of companies.
Insulating Renders – Insulating render can be used to renovate a home. When your outside walls are decaying or not adequately insulated, this type of render is beneficial. Is your home's external wall leaking or prone to water damage? If this is the case, insulating render can help you.
Leading House Rendering Services
At Gaffney & Guinan, we provide industry-leading external rendering services in Bristol and the surrounding areas. Every project we work on provides a smooth client experience. Get in touch to talk to our surveyors about our external rendering services.